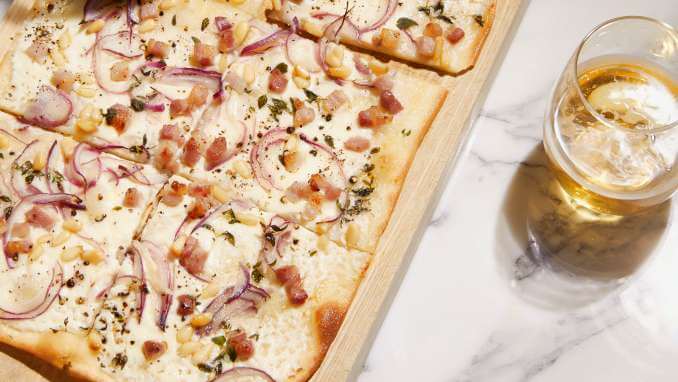 Here's a brilliant recipe for Flammekueche – which Josh Fehnert wrote for Monocle magazine – perfect for trying in your Städler Made Outdoor Oven, as an alternative to your traditional pizza recipe…
Its origins may be ambiguous but you can be certain of one thing: 'flammekueche' is a crowd-pleaser. Created as a means of testing an oven's temperature, this happy accident can be salty or sweet and is perfect for sharing – along with a bottle of Alsace wine.
Food says a lot about the place from which it hails. A telltale ingredient can signal a nation's climate or history, nod to which immigrants settled when and even betray the temperament of the person across the table from you (for proof, try not sharing your meze in Istanbul or persuading a Puglian to eat supper before nightfall).
The origins of this month's dish, flammekueche, are hotly contested. Cooked up in a happy accident, the original recipe – dough rolled paper thin and flame-licked in a wood burner – was created in Alsace, France, as a way of testing the temperature of a baker's oven. Smeared with crème fraîche and, before that, sürmellich (curdled milk), flammekueche became a favourite with farm labourers and peasants in the 19th-century Bas-Rhin region. By the 1960s it was a staple in winstubs (typical Alsatian restaurants) and often enjoyed with pork; Alsatians – not the canine kind – gobble more piggies than anyone else in France.
The flammekueche or tarte flambée was quickly embraced as a recipe in its own right. However, like Alsace itself, the dish is heir to many claimants (this strip of land has changed hands between the French and Germans countless times). Like its southern European cousin the pizza it's a dish best shared, torn by hand and particularly good with an Alsace wine such as a sylvaner, sweet riesling or edelzwicker.
There is a sweet version made with pears or braeburn apples and sprinkled with demerara sugar and cinnamon. But our recipe pays tribute to the dish's ambiguous lineage: pancetta for the Alsatian penchant for pork, onions as a nod to French cooking, pine nuts for crunch and thyme to round off the mouthful. Although its origins remain oblique, the reasons behind its popularity are obvious. Just don't call it a tarte flambée if you don't want an Alsatian barking at you. Bon appétit.
Serves 4 (as a light meal)
Ingredients
Dough
1⅓ tsps caster sugar
⅔ tsp easy-bake yeast from tin
260g strong flour
½ tsp salt
2 tsps olive oil
Topping
400g crème fraîche
2 small red onions, finely sliced
150g pancetta, diced
6 tbsps pine nuts
4 tbsps thyme leaves 4 tsps olive oil Sea salt and black pepper

Method
For the dough mix sugar, yeast and 160ml lukewarm water in a jug and let it stand for 5 to 10 minutes or until froth forms on the surface, then add the olive oil.
Mix the flour and salt in a large bowl, make a well in the centre and pour in the liquid; incorporate it quickly with a wooden spoon. Once the mixture starts coming together, knead it with your hands in the bowl until the dough is no longer too sticky to handle. Pour it onto a floured worktop and knead for 10 minutes. The dough should become very smooth. Wash the bowl, drizzle in a dash of olive oil and spread all over the inside. Place the dough back in the bowl, cover with oiled cling film and leave it in a warm place for 30 to 40 minutes until it is almost double its original size.
Preheat oven to 230C (fan), 250c (conventional) or gas mark 9. Prepare toppings while the dough proves.
Divide the dough into four pieces and put one on floured, non-rimmed, flat baking trays so you can roll the dough directly on it (if your tray has a rim, flip it and use the other side). Roll with a rolling pin until the dough is 1mm to 2mm thin.
On each base smear 1 tsp of olive oil; next spread 100g of crème fraîche then sprinkle red onion, pancetta, pine nuts and thyme leaves on top. Sprinkle with salt and pepper then bake for 10 minutes, or until the edge of the dough becomes golden brown and the bottom crisp. Bake one at a time, sharing the first freshly cooked one as you work on the next.