Ever wanted to make your own wood-fired pizza at home ? Why not try Anna Jones's mix+match pizza recipes – including a fantastic one for a gluten-free pizza base…
Dough is the foundation of all great pizza – and ripe for reinvention. Try a quick frying-pan spelt base or an unconventional almond, oat and cauliflower mix – then slather with these tomato sauces and your choice of topping.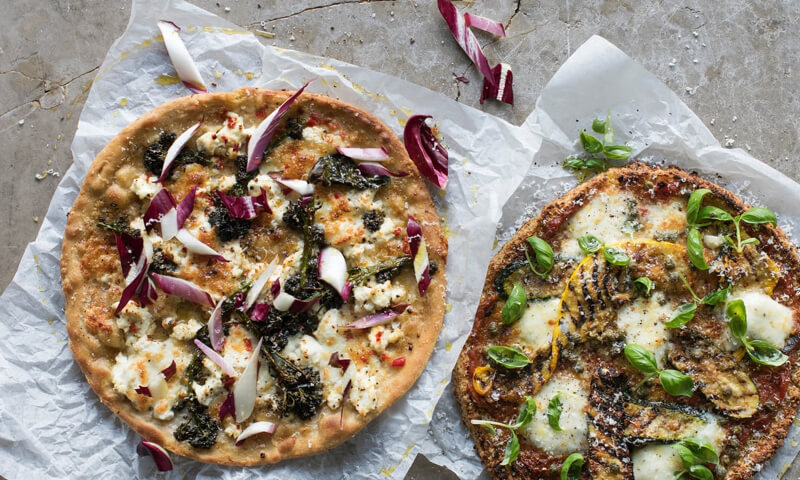 As I write this, I'm in the clouds, somewhere high up between London and Italy. I am travelling to Milan to celebrate the publication of my first book there.
All my life, I've had a deep love and respect for Italian food: for how menus change so completely from one town to the next, and the fierceness with which culinary traditions and family recipes are protected. I really don't know how my style of cooking will go down in Italy; I am happy to cross continents in one dish – in fact, I regularly make a bowl of spaghetti with olive oil, capers, lemon, parmesan and avocado – very good, but certainly unorthodox.
My favourite pizza is a simple one made with a thin sourdough base, pulled and stretched until it has just the right chewiness and puff. I love a halo of charred crust, bubbled and blistered black in places from the intense heat of a wood oven. But that kind of slow-risen dough is labour-intensive stuff, so it is rare that I make this kind of pizza at home.
I do make the following recipes a lot though. Pizza is my one-year-old son's favourite food. So these are my weeknight workhorses. The first is a quick no-rise dough, easily made in the food processor or by hand. It uses baking powder rather than yeast as a raising agent. The cooking starts off in a preheated ovenproof frying pan, which helps get a base that puffs up but stays crispy on the bottom.
The other base is made in a completely different way. It uses ground almonds, cauliflower and oats, which are whizzed in a food processor then pressed flat into an unexpectedly delicious base. Obviously not a conventional pizza, but still very good to eat: the base crisps pleasingly and tastes toasty thanks to the oats and almonds.
On to the two tomato sauces – one thrown together in 10 minutes, the other made with toasted tomatoes for a sweet, almost creamy bed for toppings.
What you top your pizza with is a personal thing: I have suggested my favourites at the bottom in my 'flavour map' – the base, the cheese, the hero vegetable, the top note.
Go wild: as I've learned this week, even in Italy there are no rules.
Two pizza bases:

Quick, no-rise, frying pan pizza dough
You'll need a large, ovenproof frying pan for this recipe. I use a 28cm cast iron one, but you could use a couple of smaller ones – just make sure your pan fits into the oven. To get a super-crisp base, start your pizza in the frying pan on the heat before putting in the oven. If you don't have a pan big enough, put your dough on to a preheated pizza stone or thick baking tray to help with the crust.
Makes 2 medium pizzas to serve 2-4
300g white spelt flour (about 1 mugful)
1 tsp baking powder
150ml tepid water (about ½ a mugful)
Salt
1 tbsp olive oil, plus more for cooking
Put the flour, baking powder and water into the food processor with a good pinch of salt and 1 tbsp olive oil, then pulse until the dough comes together in a ball.
Put your frying pan on a medium to high heat. If you have two pans about the right size, you can do both pizzas at once; otherwise try one after the other, as they cook quickly. Cut the dough into two equal halves. Cover one half for later; put the other on to a floured work surface and use a rolling pin to roll it out into a 1cm thick circle about the size of your frying pan.
Drizzle a little oil into the hot pan, then carefully lift in the dough. Leave it on the heat for about 3 minutes, so the base starts to cook, while you quickly top the pizza with tomato sauce and your chosen toppings. Put the pan in the oven and bake until bubbling and crispy – about 8 minutes.
Almond, oat and cauliflower pizza base
This is not a run-of-the-mill pizza – the base is made from cauliflower, oats and ground almonds, and makes a crispy, hearty and delicious vehicle for your toppings to sit on top of.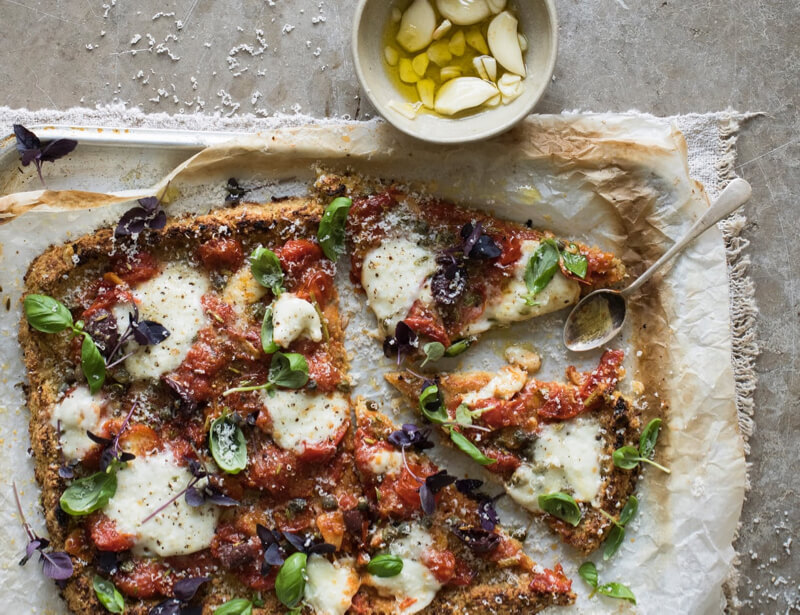 Makes 1 large pizza to serve 2-3
1 medium cauliflower, roughly chopped
100g ground almonds
100g oats
A pinch of dried oregano
Salt and black pepper
2 eggs, beaten
Olive oil
Preheat the oven to 220C/425F/gas mark 7. Line a baking tray with baking paper.
Blitz the cauliflower in a food processor until it has a fine, rice-like texture. Put it into a mixing bowl, add the ground almonds, oats, oregano, salt and pepper, and mix with your hands. Make a well in the centre and add the eggs. Mix it all together, then use your hands to form the lot into a ball. It will be a little wetter and less firm than a traditional pizza dough.
3 Rub the baking paper with some olive oil, then put the dough in the middle of the baking tray and use your hands to flatten it out until it is about 5mm thick – slightly thicker around the edges. Bake for 20 minutes, until just golden.
4 Once the base is golden, remove it from the oven and turn the heat up to 240C/475F/gas mark 9. Spread over the tomato sauce and your toppings. Drizzle with a little more oil, then put back into the oven for another 8 minutes to cook the toppings.
Two tomato sauces:

Roasted tomato sauce
You may want to blitz it in the food processor to a smooth sauce. I don't mind it with some texture. I'll leave that up to you.
Serves 4
1.5kg ripe tomatoes, on the vine
4 garlic cloves, unpeeled
3 bay leaves
5 thyme sprigs
A tiny splash of red wine vinegar
A small bunch of basil, leaves picked
Salt and black pepper
Set the oven to 200C/400F/gas mark 6. Put the tomatoes on a large baking tray, and season. Scatter over the garlic cloves, thyme sprigs and bay leaves, then transfer to the oven and roast for 25 minutes, or until the tomato skins are lightly charred and split.
Let the tomatoes cool for 1-2 minutes, then pull them off the vines and put in a frying pan with the red wine vinegar, the basil and a pinch more salt and pepper. Squash with a spoon and simmer for 15 minutes, or until you have a thick, strawberry-red sauce with an almost creamy consistency.

10-minute tomato sauce
Serves 4
Olive oil, for frying
2 garlic cloves, peeled and finely sliced
A bunch of fresh basil, leaves picked, stalks finely chopped
500g ripe cherry tomatoes, halved, or a 400g tin of chopped tomatoes
Sea salt
Heat a glug of olive oil in a frying pan. Once the oil is warm, but not too hot, add the garlic and cook on a medium heat until the edges are just beginning to brown.
Add the chopped basil stalks and swish around the pan. Next, add the tomatoes and a good pinch of salt and the basil leaves and cook on a medium heat for 8-10 minutes, until they have broken down and the sauce has thickened and sweetened.
Pizza toppings: a 'flavour map'
Mix and match these flavours and textures.
1 – Base sauce (A couple of tablespoons, swirled over the base)
Pesto, romesco sauce, garlic and olive oil, tomato sauce, roasted tomato sauce
2 – Cheese (A handful or two, to your liking)
Ricotta, parmesan, pecorino, tallegio, mozzarella
3 – Vegetable (An evenly distributed handful)
Blanched purple sprouting broccoli, griddled courgettes and their flowers, wilted greens, radicchio, sliced cooked new potatoes
4 – Flourish (A handful, to taste)
Olives and capers, herbs – basil/rosemary/thyme/oregano, fresh red or green chilli, an egg cracked in the middle, spices (I like dried chilli and fennel seeds)
Anna Jones is a chef, writer and author of A Modern Way to Eat and A Modern Way to Cook (Fourth Estate); www.annajones.co.uk; @we_are_food