The Scheme: House&Garden show 'How To' create a rustic farmhouse scheme, imagining our Trestle table as a centrepiece.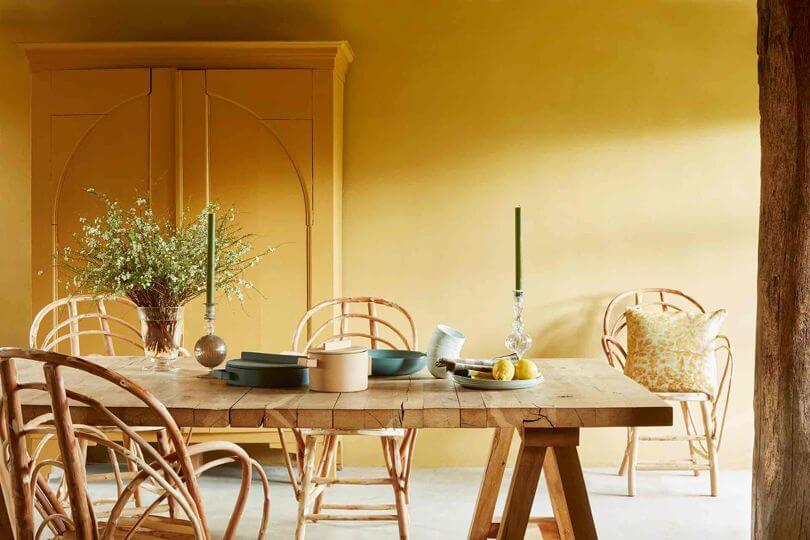 Every month House & Garden's decoration editors and stylists create a fictional, shoppable home, using a painstakingly researched section of beautiful design objects old and new. Welcome to The Scheme.
Above, Gabby Deeming enhances the character of this Dutch farmhouse dining room with simple furniture, rustic ceramics and shades of green, blue and sunshine yellow. photo by Ngoc Minh Ngo.
'How To' create a rustic farmhouse scheme:
WALL: the walls are painted with 'Cream Colour', £38.40 for 2.5 litres matt emulsion, from Papers and Paints.
FURNITURE: Late-nineteenth-century wood cupboard, similar from £1,800, try Lorfords Antiques; painted in 'Ginger', £55.20 for 2.5 litres water-based eggshell, from Papers and Paints. Oak trestle dining table, for similar, try oak 'Trestle table' (shown below) by Heerenhuis Manufactuur, at Different Like A Zoo. Bent willow chairs, for similar, 'Twig Lawn Chair', 110 x 70 x 79cm, £946.43, from Gottlieb Gallery.
The Trestle table by Heerenhuis is made from solid French oak, with a top of about 4cm thickness and a standard width of 80cm. It is available as a Made to Measure table, where almost any size is possible.